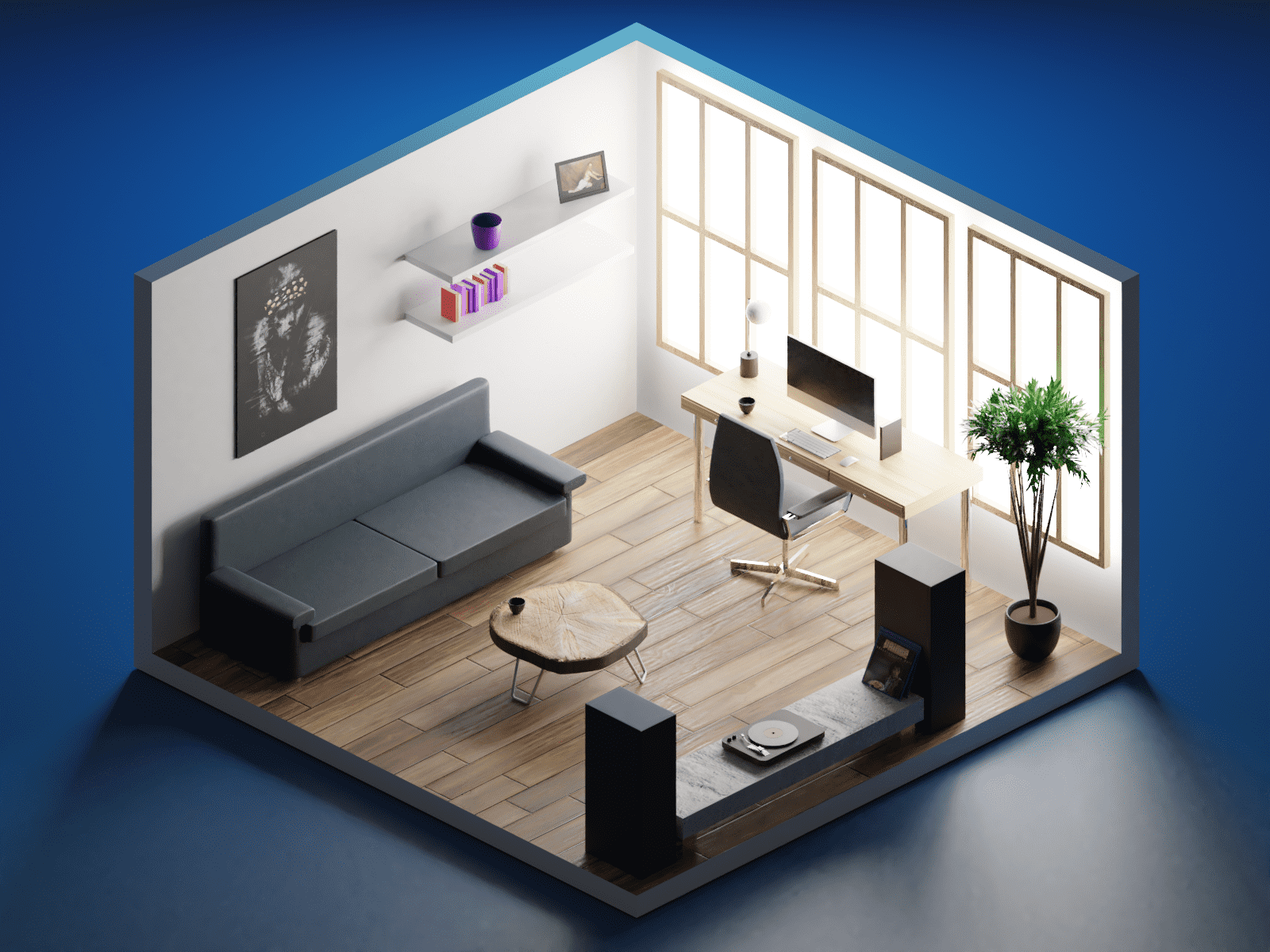 Web development is great, but adding the Z-axis to the mix gives it a whole new dimension!
Many people in my bubble have gotten the 3d spark by Bruno Simon's ThreeJS course (which I've recently reviewed), an extensive course for the go-to 3d library on the web, ThreeJS. This course also includes an extensive lesson regarding Blender, a freely available 3d software suite with endless possibilities.
Naturally, a lot of people are looking for more Blender resources and when you search for those you'll inevitably come across the Youtube channel and tutorials of Polygon Runway. Polygon Runway provides detailed progress and how-to videos on YouTube but their main products are extensive blender courses sold through their site. Today I'll be covering the 'Become a 3d Illustrator' course, which I recently completed and got a lot of questions about, mainly… is it worth it? A question that is not surprising as it does set you back a pretty penny.
Introduction
Become a 3d Illustrator is a course introducing you to both the basic concepts of 3d illustrating as well as helping you with getting a handle on the Blender 3d Software suite.
Blender is available freely and used for many professional products, ranging from game design to animation movies to websites. It is not always the most intuitive software though, so picking it up on your own can be daunting.
The 'Become a 3d illustrator' course will guide you through the first steps of setting up Blender all the way to becoming somewhat of an expert with the basic techniques. You will also learn valuable basic concepts of (3d) illustrating which are not dependent on any specific application.
Who's Polygon Runway?
Polygon Runway is an educational channel of Roman Klčo, a designer and illustrator who's been in the business for over 15 years. He runs an amazing YouTube channel under the same name where you can pick up quick Blender tips or follow along as he makes entire 3d scenes in Blender, sometimes with commentary. If you want to get serious about 3d illustrating, he offers an impressive series of 3d video courses on polygonrunway.com of which 'Become a 3d Illustrator' is a famous one. The first module of this class is free under the name "become a 3d illustrator in one hour".
Requirements
The course is created for beginners and you don't need any Blender experience to get started. You will need a computer that can run Blender and as my 2013 MacBook Pro can run it, I'm pretty sure a potato can too. Having a nice video card will help a lot with rendering speed though, this will be explained throughout the course and you can also find more information about compatible video cards on the Blender requirements page.
What I do recommend is getting a simple three-button mouse (with scroll wheel), if you don't have one. It's possible to work in Blender with a trackpad and Roman will show you which settings to change. I tried, rage-quit after 20 minutes and ordered a cheap mouse online which does the job. Of course, something like a drawing tablet will work great as well.
The Course
In the "Become a 3d Illustrator" course you will make five different scenes using a whole range of different techniques. Each scene is made during one of the episodes and each episode is split up between different chapters with durations that range from a couple of minutes to about half an hour. That doesn't mean you'll be done with each chapter within the given time as you can endlessly noodle with details to make every scene your own. I spent half the day on some chapters that were supposed to take 12 minutes 😅.
What I greatly appreciate is that Roman always takes the time to share his thought process on how he gathers his inspiration, composes a scene, chooses his colours and lighting. This way you're not just following along to get proficient in a piece of software but you're learning valuable concepts from a design veteran that are not software dependent.
There's also a bunch of bonus content, including assets you can use in your own scenes and some excellent lessons on animations within Blender, which I thoroughly enjoyed.